Contact Us
Toll Free: (877) METRIDOC
Toll Free: (877) 638-7436
Telephone: (586)510-0011
Email: [email protected]
Successful companies are always looking for ways to save time and money, become more efficient, and grow their business. We know that personnel spend too much time filing and searching for documents that they need in order to perform meaningful tasks. The goal with a document management solution is to reduce that amount of time as much as possible because the less time personnel spend shuffling paper the more time they have for meaningful tasks.
Put your documents in the scanner, push a button, and walk away. Metridoc takes over from there, it will automatically recognize your scanner output, and immediately start processing documents. It will determine the type of document, capture text data, convert the image to a full text searchable Adobe® PDF, and automatically catalog the document in the system without any human interaction.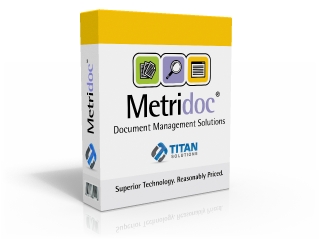 All documents are secure, requires user login and passwords, HIPAA compliant, and all document access is logged by the system.

Browser based user interface that requires zero client installation. As simple as using a search engine like Google® or Yahoo®.

Built using mainstream industry standard components such as Microsoft® .NET, SQL Server® and Adobe® PDF document formats.
An employee spends 16 hours a week, 40% of their time, on filing and other paper document activities. Based on an annual salary of $24,960, or $12 per hour, plus taxes and benefits that is about $11,520 per employee per year.
Professionals spend 5-15% of their time reading documents, but up to 50% of their time looking for them.
On average, 19 copies are made of each paper document.
90% of the papers handled each day are merely shuffled.
25% of documents are misplaced or lost, 7.5% of all documents are lost forever, and it costs $150 in labor to find a misfiled document.
On average, 19% of printed documents are wasted.
Office employees spend a consistent 20-25% of their time seeking information; more effective search capabilities will save time and drop these percentages.
Paper document mismanagement claims 12-15% of corporate revenue. That is $75,000 for every $500,000 of revenue.
85% percent of archived documents, meaning not active documents, never leave the filing cabinet and are just taking up space.
What are the benefits of implementing a document management solution?
20-30% increase in productivity. Increase your work force by 1/3 without increasing labor costs.
20-40% savings on document handling.
20-40% improvements in cycle time.
30-50% savings on desk space.
30-50% improvement in customer satisfaction.
One Final Statistic
Over 60% of all companies (the percentage is much higher for small to medium size businesses) still process, store, and retrieve documents manually.
This means you can still get a jump on most of your competition by implementing Metridoc — before they do.
What are you waiting for? Contact us today.
Information Sources: Coopers & Lybrand, Xerox, A.T. Kearney, Benchmark Consulting International, Gartner Group, Cap Ventures, and AWV.
Metridoc® HME Brochure
Metridoc® Fact Sheet